Renal Meals
Renal Meals is a sister site of MagicKitchen.com. Our chefs and nutritionists have been working overtime to meet the need for more delicious frozen renal meals. CEO Greg and President Michelle have listened to our customers and created the Complete Meals Menu to cater to those with health issues.
The challenge they set forth to the chefs this last year was, "Create tasty, healthy meals for people on renal diets."
We think our chefs came through with flying colors.
Order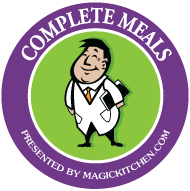 Does that make your mouth water? Buy Renal Meals Online.
And read our 10 ways to eat in moderation on the Renal Diet.
Buying frozen renal meals online is an easy way to get the proper nutrition for your condition. Try us out today!
Information
The best short explanation we've seen of renal meals is provided by AAKP: "Prior to starting hemodialysis, patients are often taught how to reduce the amount of protein in their diet with the hope that by doing this, the need for dialysis might be delayed. However, once dialysis is initiated, dietitians begin to do the opposite and educate patients on ways to increase their protein intake."
Those are the rules our meals are based on. But the chefs have created meals like Shrimp & Vegetable Linguine, and Cheese Ravioli with Meat Sauce, to create an incredible meal delivery service.
Testimonials
"I was so happy that my sister-in-law found your website. We were at our wits end as our father was told that he had to eat a renal diet. I found that your menu fit into what we were looking for. He is very happy with the renal meals and says that they are very tasty.

I have not found another company that meets the "renal" requirements as well as yours does. You also prepare a meal that looks and tastes great. The meals are well balanced and look like that they were prepared by specialists along with Chefs. My father asked me to order another meal pack just today."

Kathy V.